per partire con il piede giusto
Il pasto più importante per cominciare la giornata è la colazione. Un ricco buffet è quello che ti aspetterà presso il nostro hotel dal salato al dolce con prodotti tipici locali e realizzati dalla nostra cucina.
Troverete torte, crostate fatte in casa con marmellate/frutta di produzione propria secondo le antiche ricette di famiglia. Il buffet è fornito di prodotti salati (salumi e formaggi locali), frutta fresca (anche per spremute).
Angolo dedicato a prodotti Gluten Free a base di farine di kamut, avena e grano saraceno, bevande Detox, zenzero e menta.
Servita in inverno nella sala colazione dedicata e nel periodo estivo in veranda bordo piscina.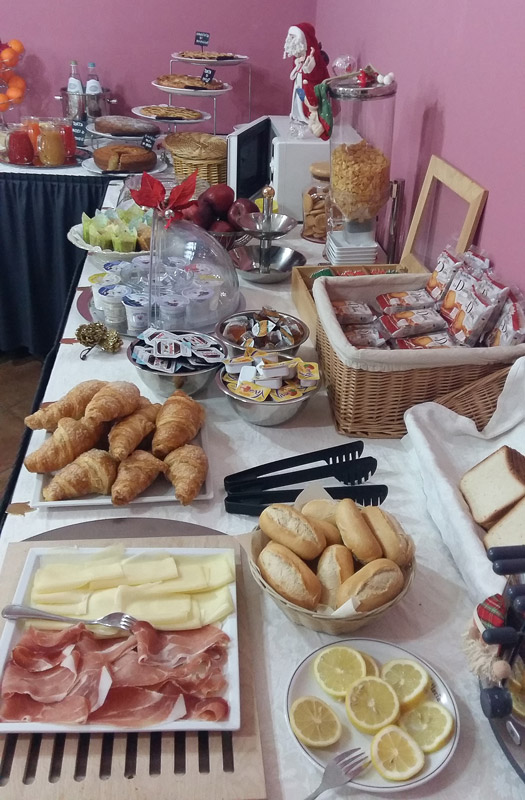 Let Lucilla advise you!
Owner and graduate nutritionist, she will know how to recommend the best meal for you! PRENOTA CON UN CLICK

SCRIVI COSA PENSI DI NOI


FREE
WI-FI


SEPARATE ENTRANCE


UMBRIAN RESTAURANT


AIR-CONDITIONED


AMPLE
PARKING


GLUTEN FREE PRODUCTS


LCD
SATELLITE TV


OUTDOOR
POOL


BAR
CAFETTERY
WE ARE EXPECTING YOU
SPOLETO - San Giovanni di Baiano
Via della Cava, 32
CONTACT US
info [@]lafattoriaspoleto.it


FREE
WI-FI


SEPARATE ENTRANCE


UMBRIAN RESTAURANT


AIR-CONDITIONED ROOMS


AMPLE PARKING


GLUTEN FREE PRODUCTS


LCD SATELLITE TV


OUTDOOR POOL


BAR CAFETTERY
WE ARE EXPECTING YOU
SPOLETO
San Giovanni di Baiano
Via della Cava, 32
CONTACT US
info [@]lafattoriaspoleto.it